A8A Cargo Control Document (used for entry to Canada)
A8A forms can be used instead of PARS Labels when there is not enough time to give advance notice of arriving at the Canadian border (as required for PARS Labels).
A8A forms are available as 5 part standard as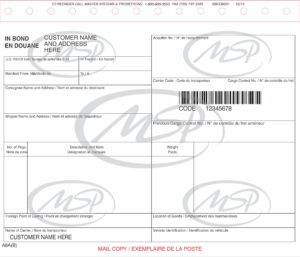 well as "In Bond" and  "4-part Post Audit" versions.
In Bond A8A's allow you to clear shipments at your destination city.
Standard A8A's require clearing at the border crossing point.
Post Audit A8A version is also available.
Let us pre-print your company name, logo, address and other relevant information on the form so that you don't need to hand write in the same information for every shipment.